Are you in search of a meaningful and stylish gift to present to your adult son, who is a proud member of a Black Fraternity? Look no further! Our Graphic Leather Wallet is the perfect choice to express your love and admiration. Crafted with meticulous attention to detail, this bifold wallet is a remarkable blend of aesthetics and functionality.
[WORDS: My dear SON, just as leather ages gracefully, may this wallet accompany you on your journey, storing not only currency but also the precious memories we've shared. ~ LOVE ALWAYS.] 
In addition to helping your son represent his fraternity, elevate the sentiment further by personalizing the with up to three initials, creating a truly unique and memorable keepsake that reflects your son's individuality.
Unparalleled Quality: Our personalized wallet boasts an exterior crafted from the finest full-grain cowhide leather. Renowned for its exquisite texture and appearance, this leather exudes luxury and durability. Its warm brown hue not only offers a timeless elegance but also promises to mature gracefully, evolving into a rich and vintage masterpiece over time.
Unique Design: What sets our wallet apart is its distinctive design, which showcases vibrant prints on the front. These striking graphics pay homage to your son's affiliation with a Black Fraternity, making it a symbol of pride and unity. The wallet is not just a practical accessory; it's a statement of his values and identity.
Built to Last: Beyond its eye-catching aesthetics, our Graphic Leather Wallet is designed to withstand the test of time. Its sturdy construction ensures it can endure daily use, maintaining its integrity and functionality. Whether he's carrying cash, cards, or important mementos, this wallet has ample space to accommodate them all.
A Cherished Gift: To make your gift even more special, each Black fraternity inspired wallet is thoughtfully packaged in an elegant black and white gift box. This presentation adds an extra layer of sophistication, turning your thoughtful gesture into a cherished keepsake. Every time your son reaches for his wallet, he'll be reminded of your love and support.
Choosing the right gift can be a daunting task, but with our personalized leather wallet, you can effortlessly combine practicality and sentiment. Celebrate your son's achievements, his dedication to his fraternity, and the bond you share with a gift that will be treasured for years to come. Order yours today and give him a gift he'll carry with pride and fondness.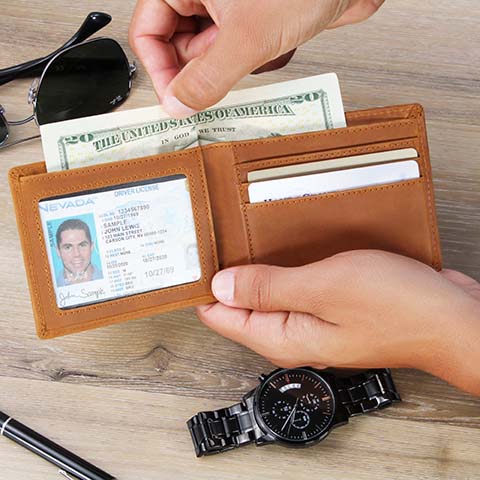 Your wallet will be custom made upon order and feature a professionally printed design. This present makes for a truly unique and sentimental gift that will be treasured for years!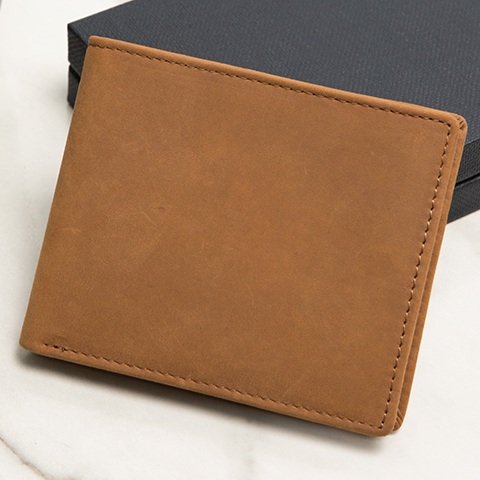 Product specifications: 
Genuine full grain cowhide leather (brown)
Slot for bills, credit cards, clear window for drivers license
4" x 3.5" (20.32cm x 8.89cm) folded / 8" x 3.5" (10.16cm x 8.89cm) flat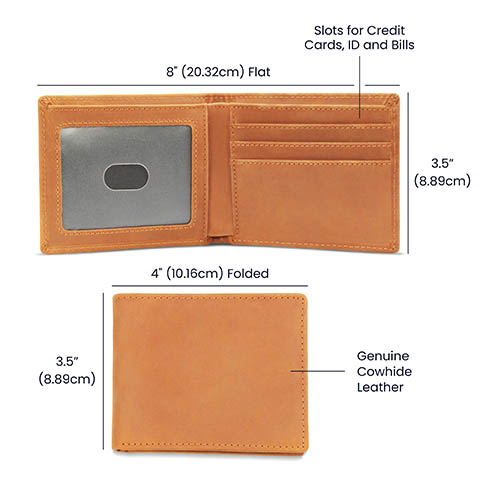 Each order is lovingly packaged and shipped with care!