1

Upload Photo

2

Confirm Design

3

Customization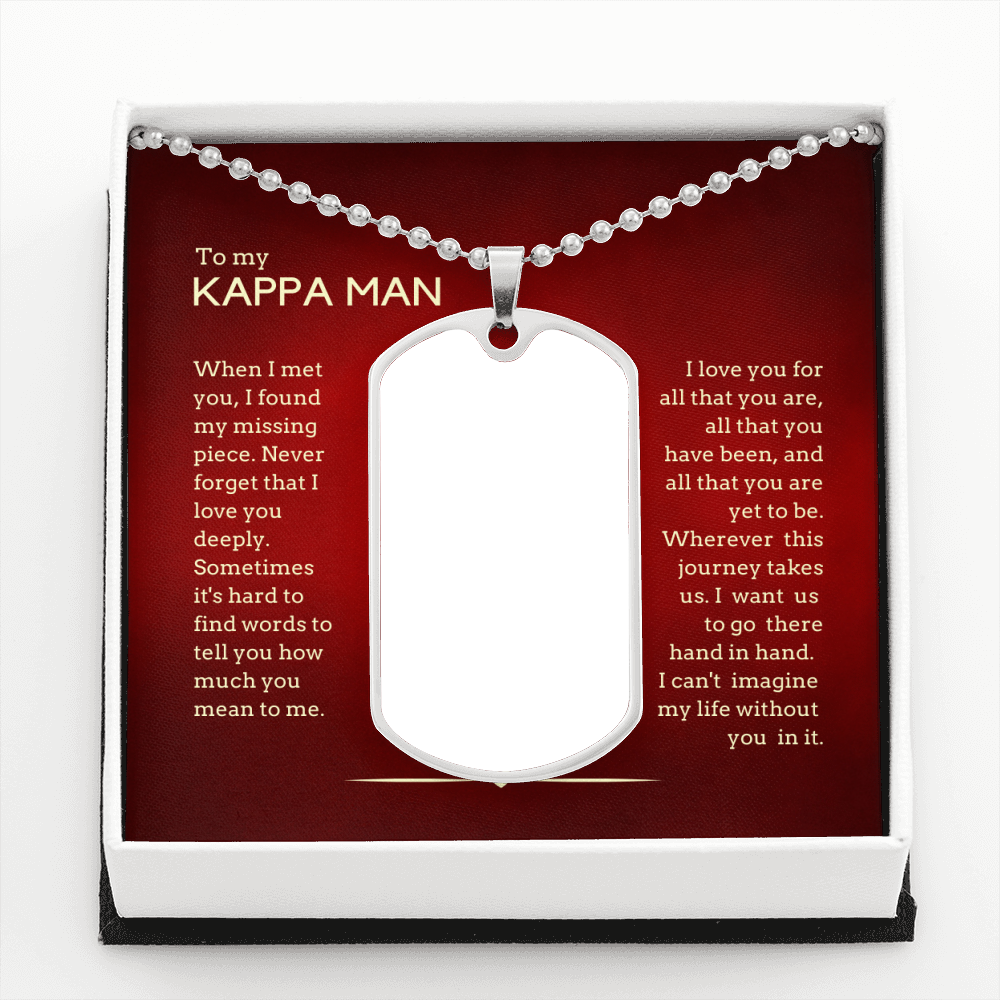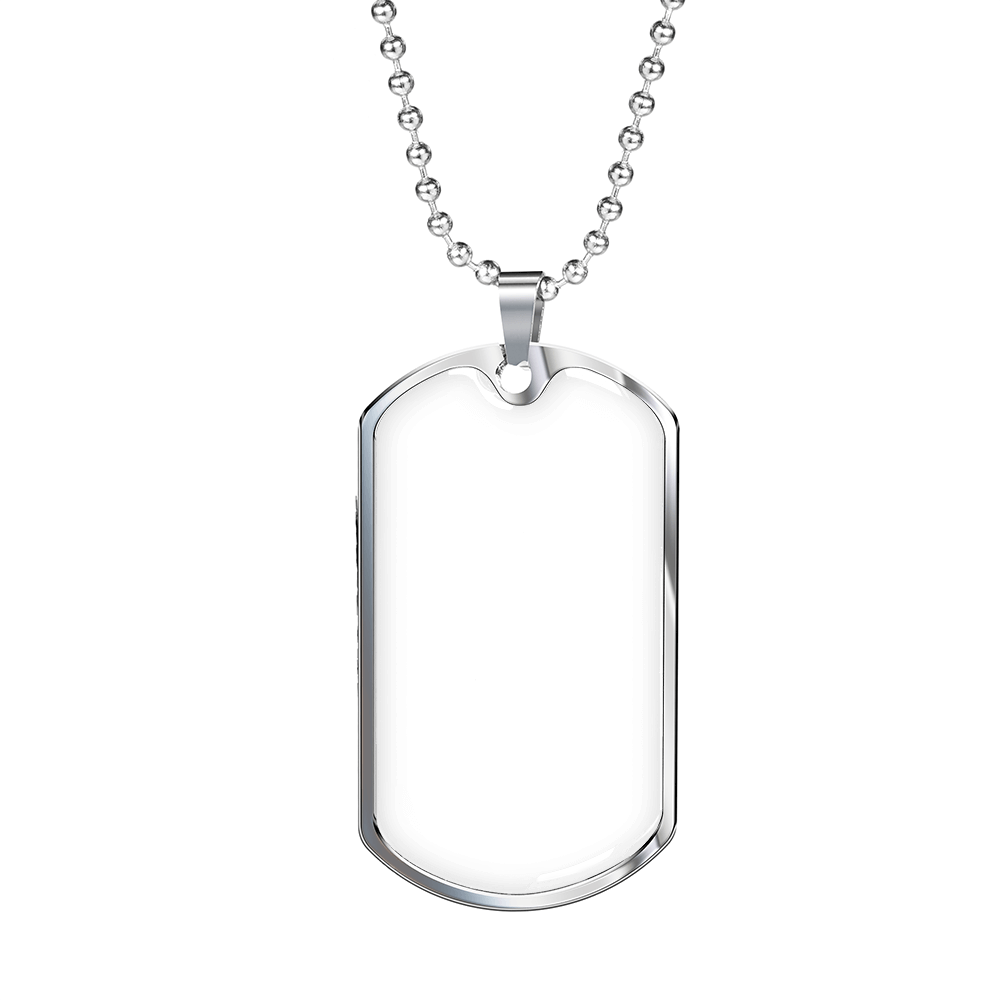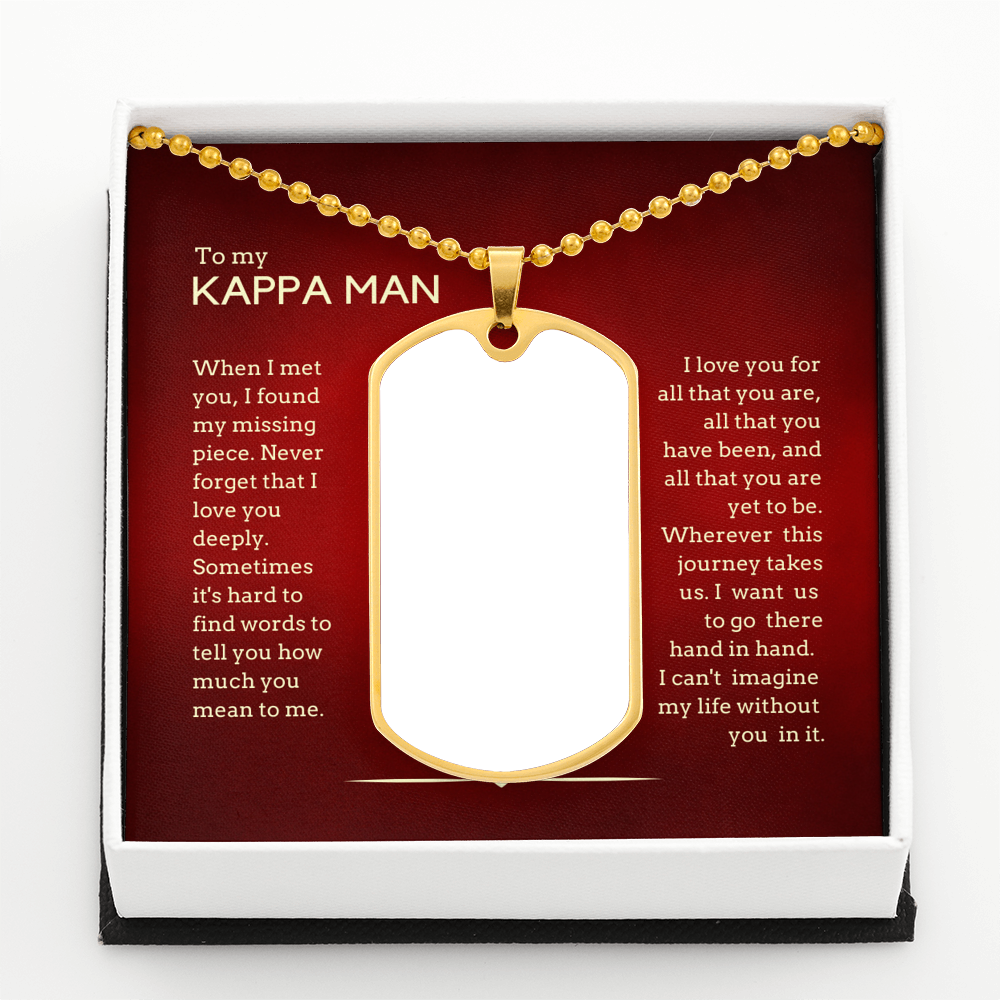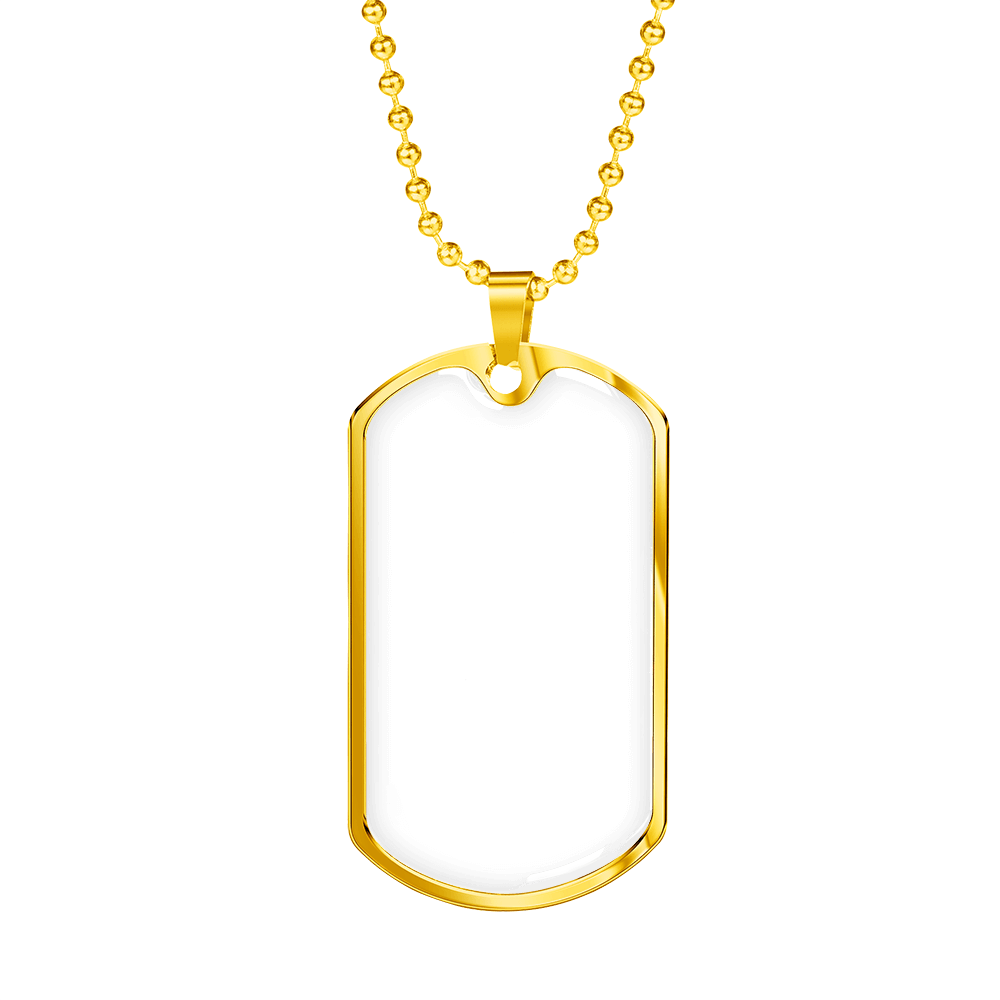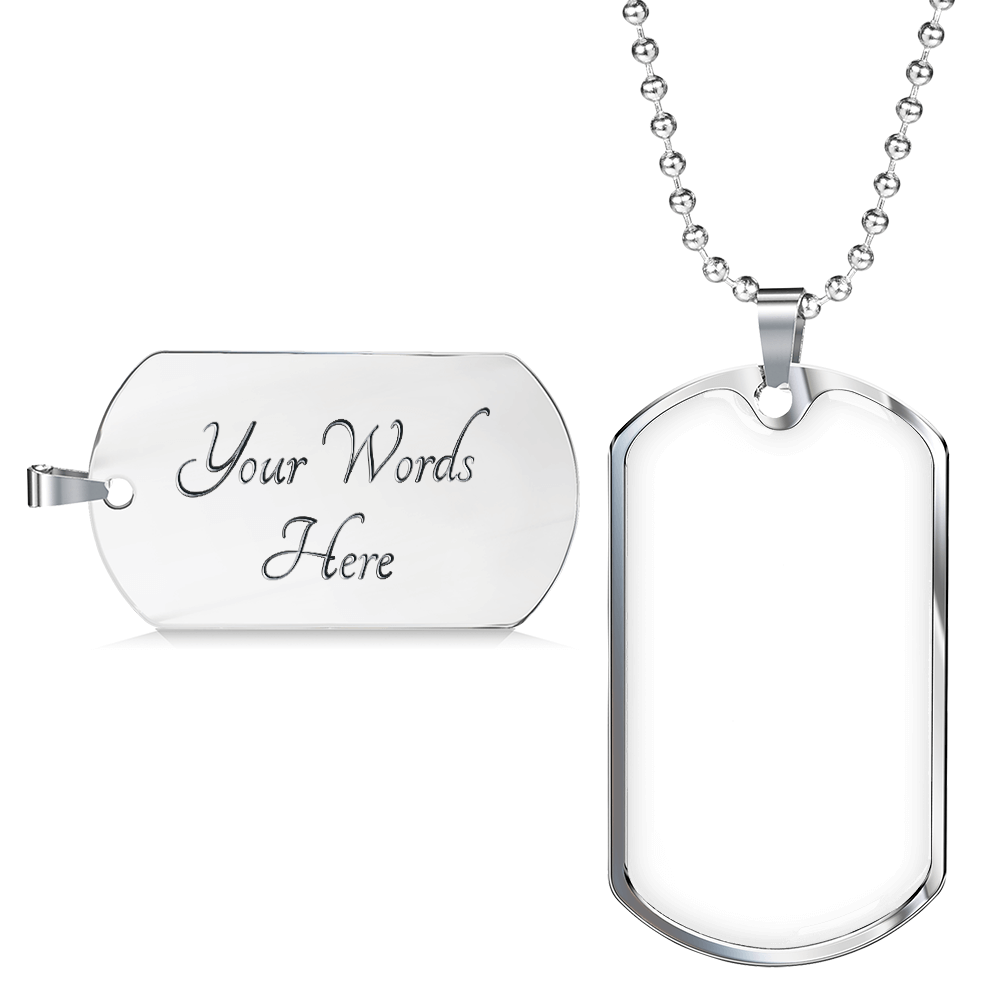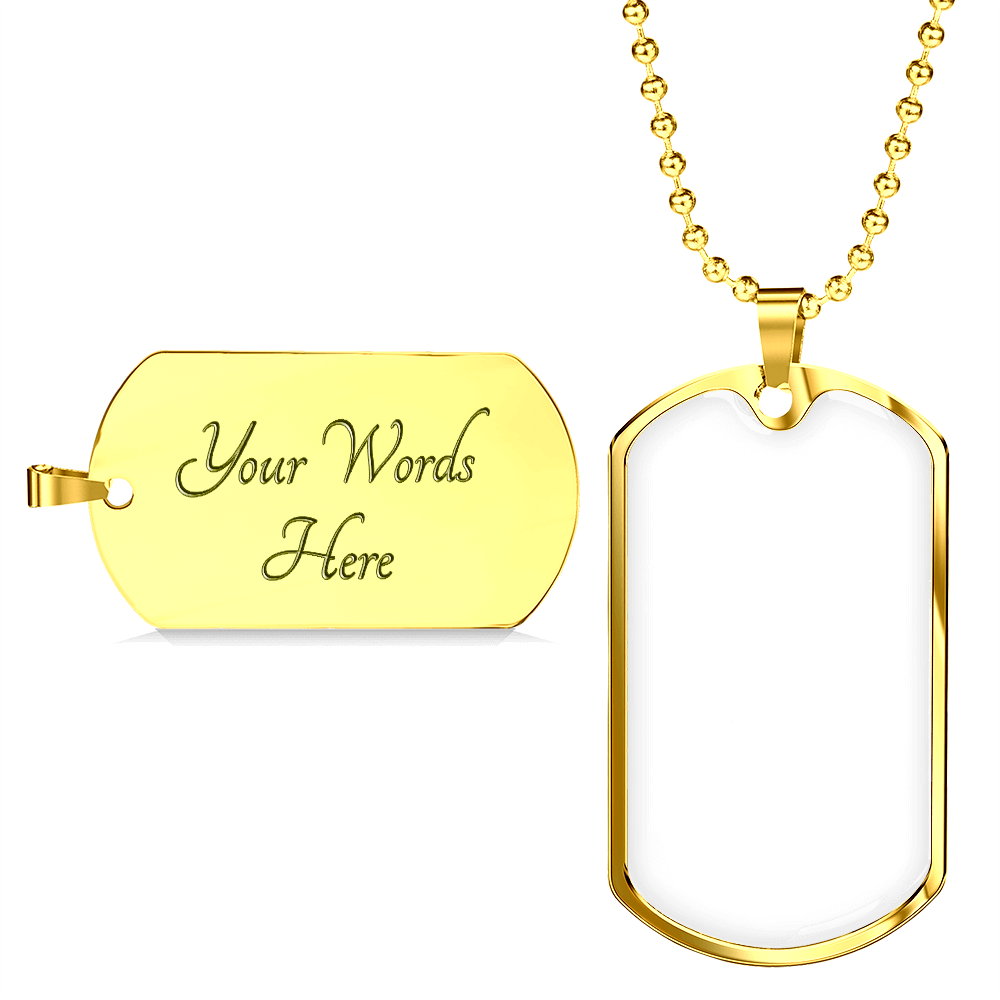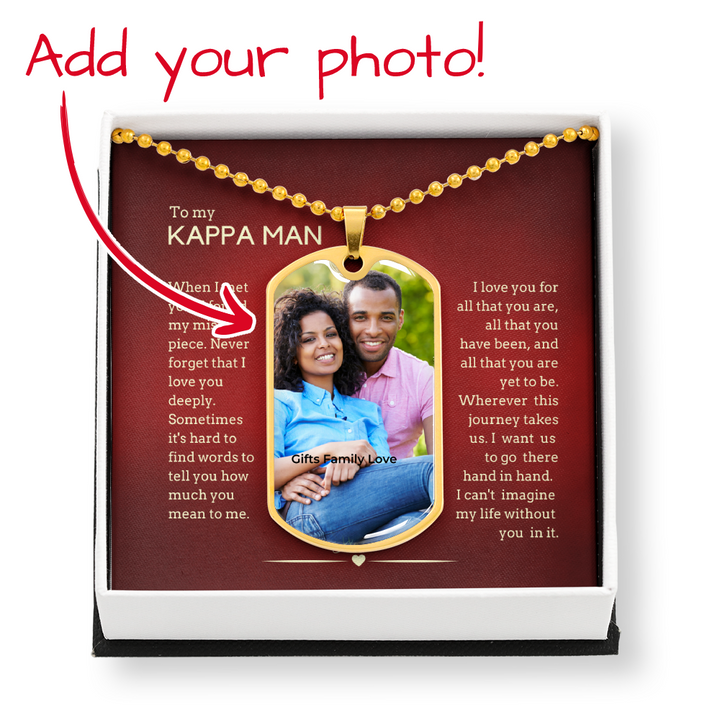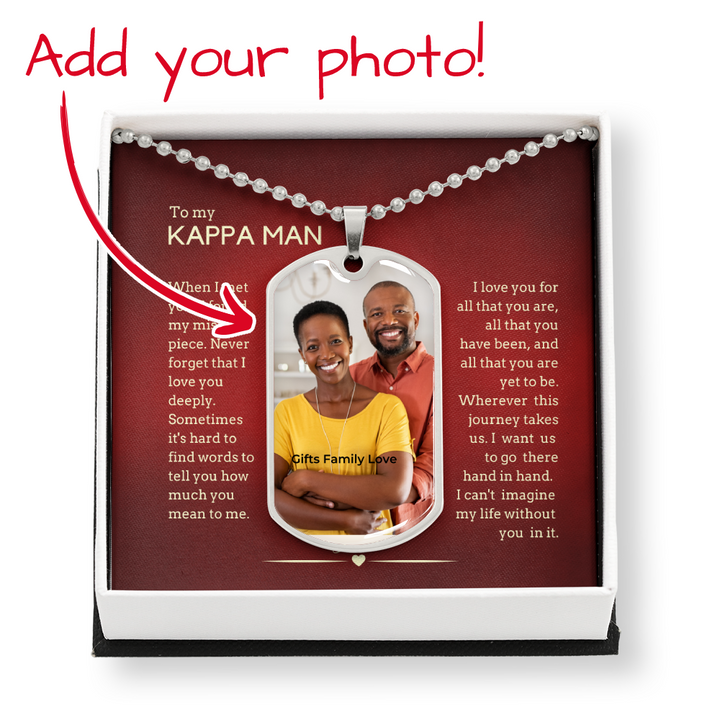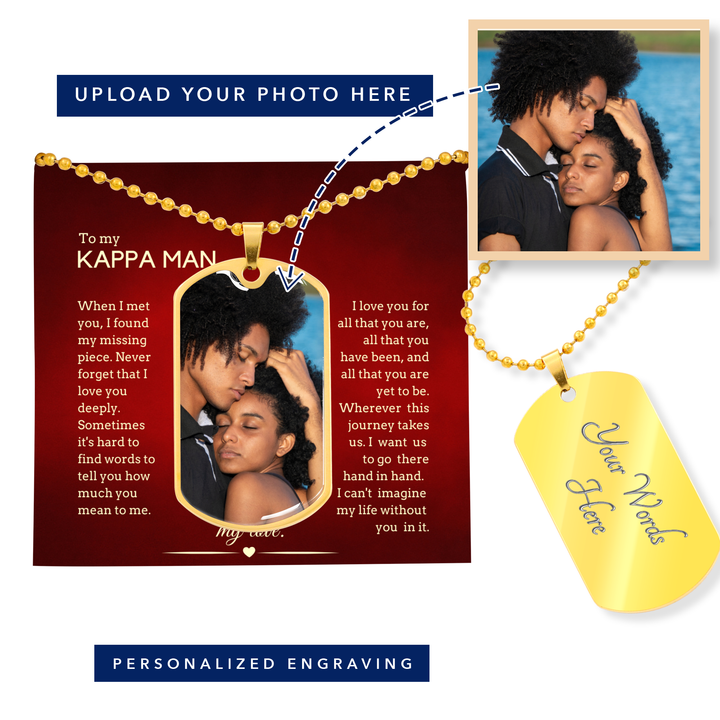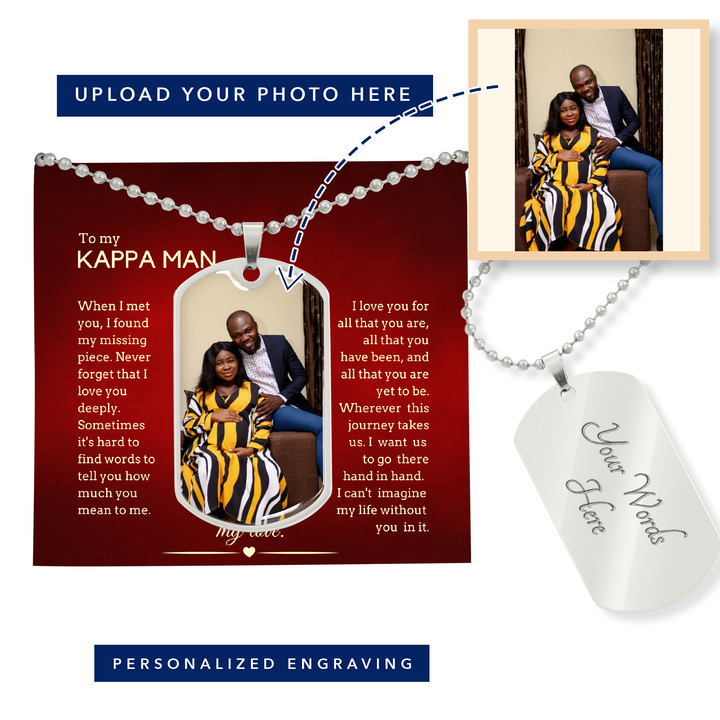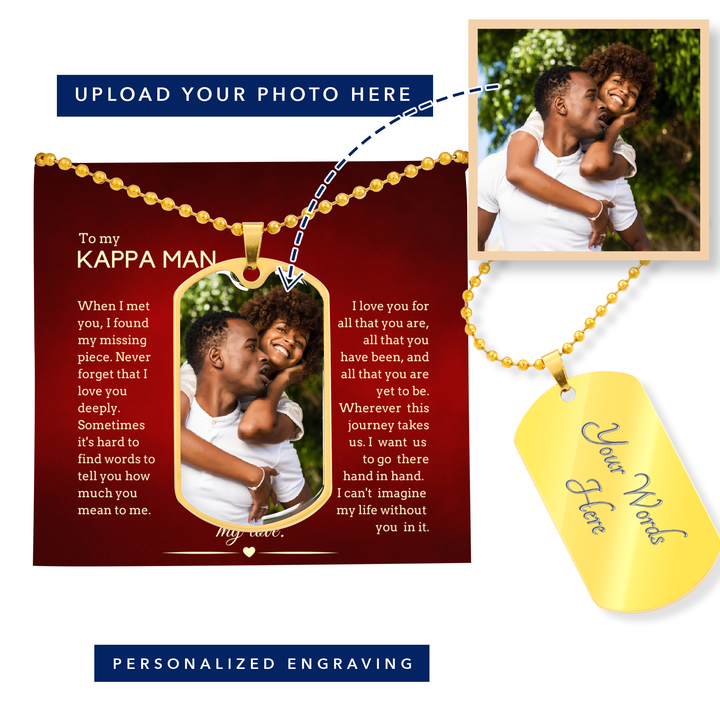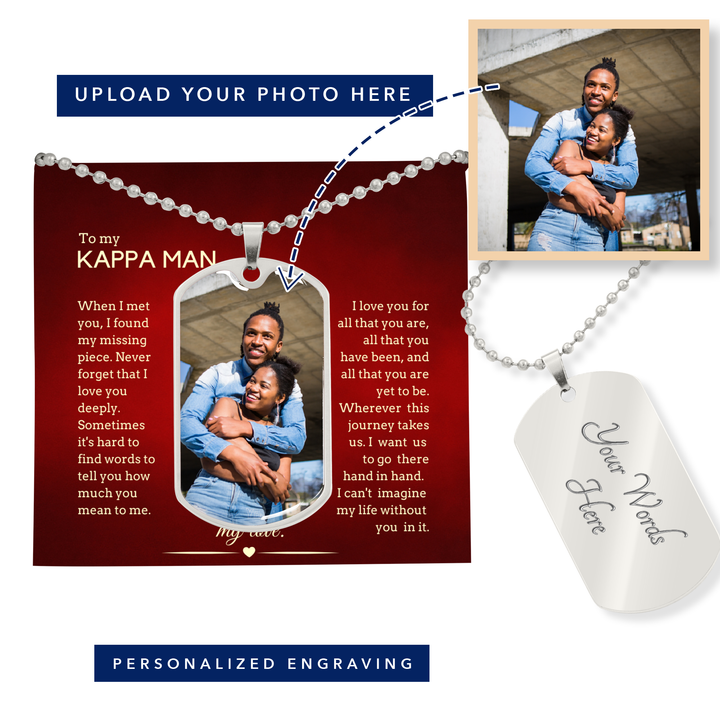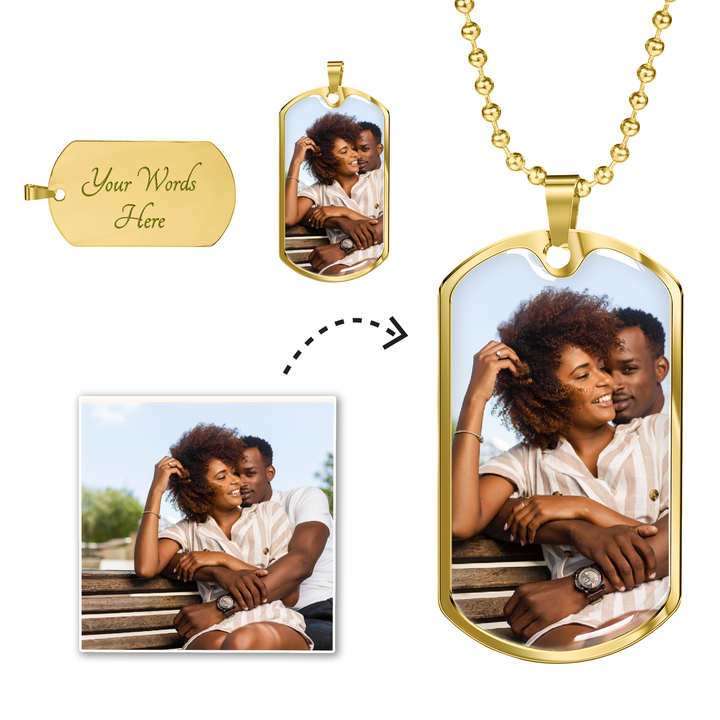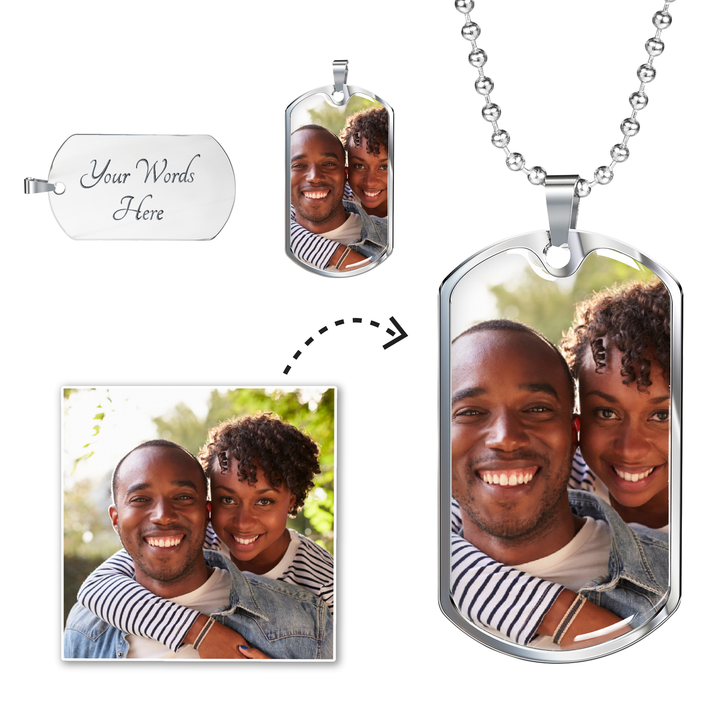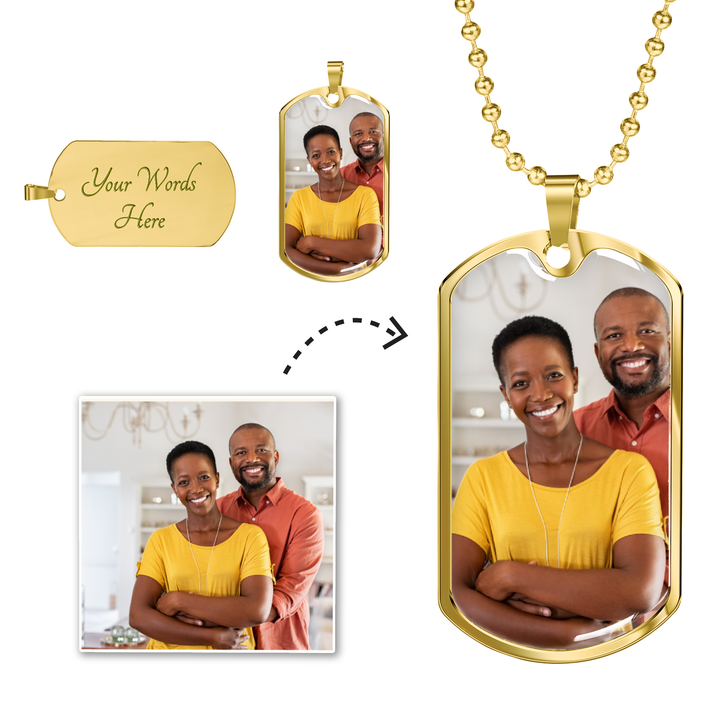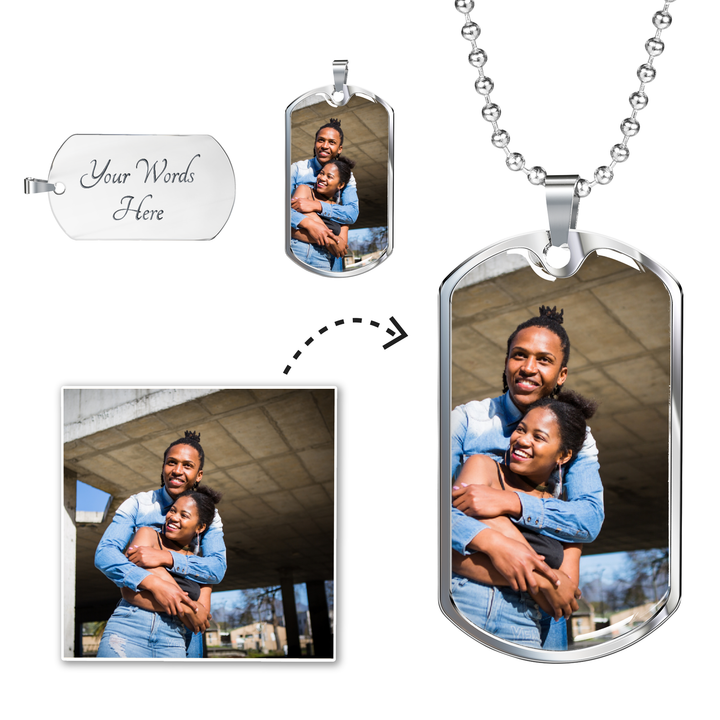 Drag or pinch with fingers to adjust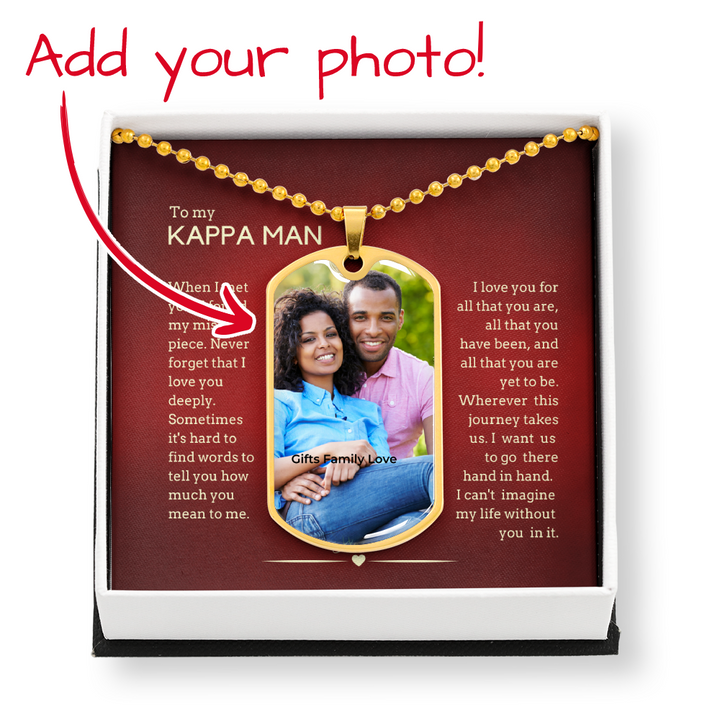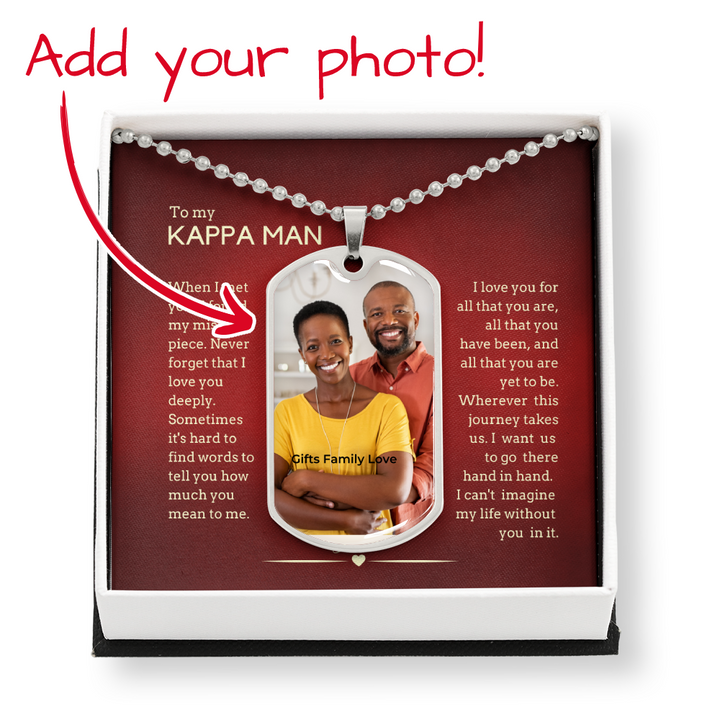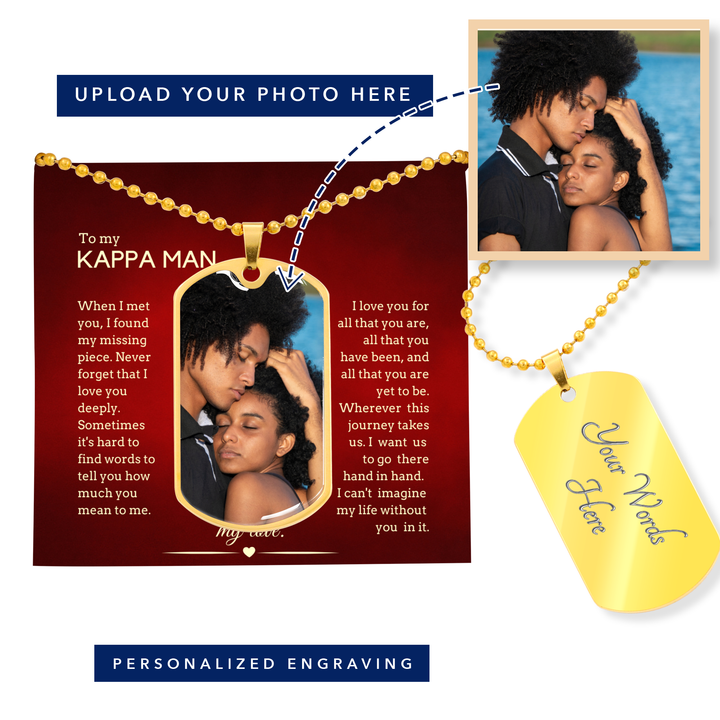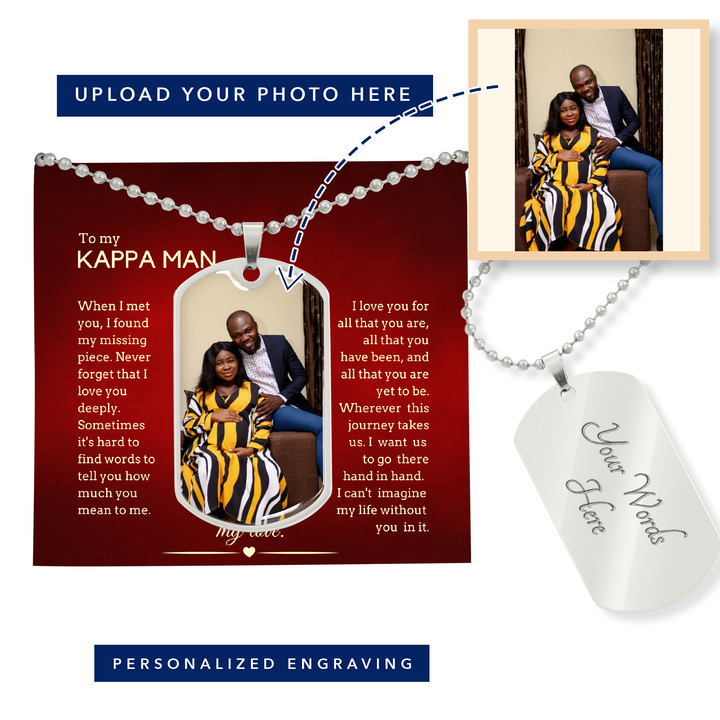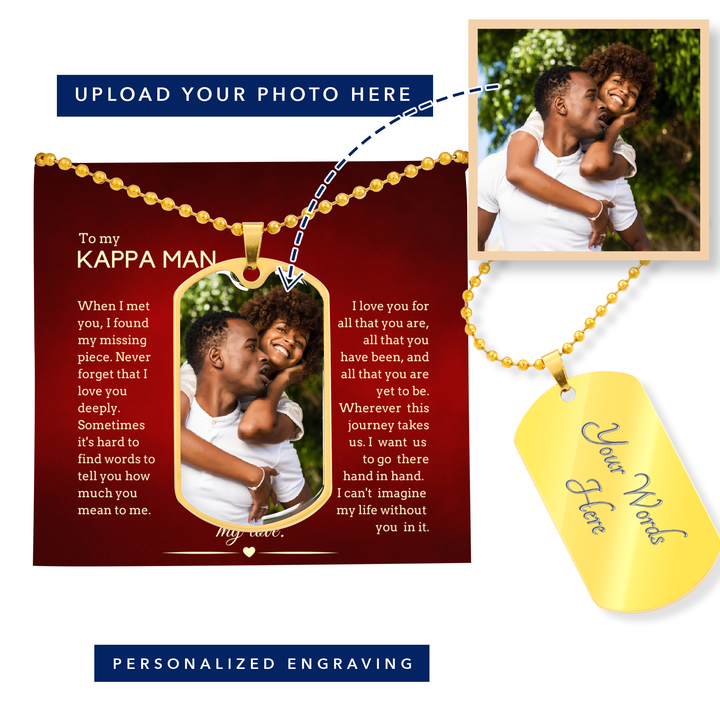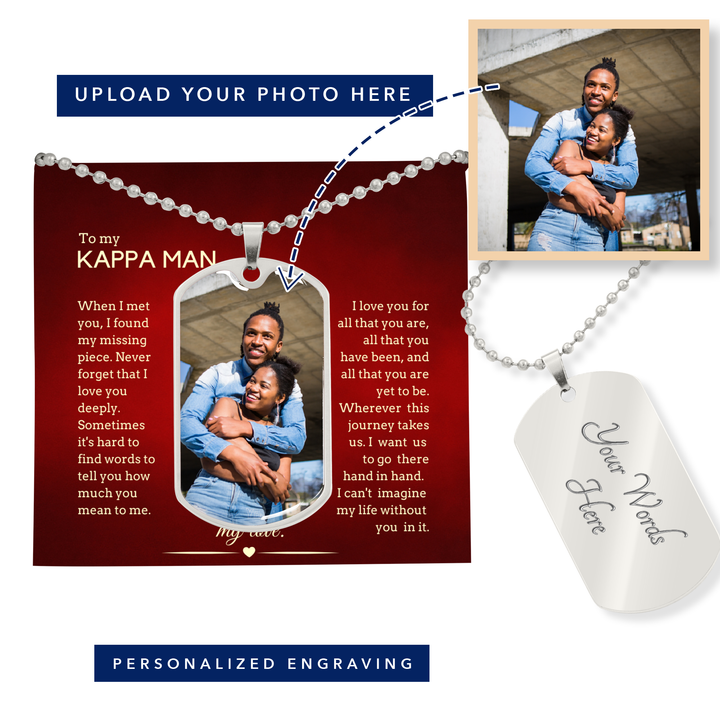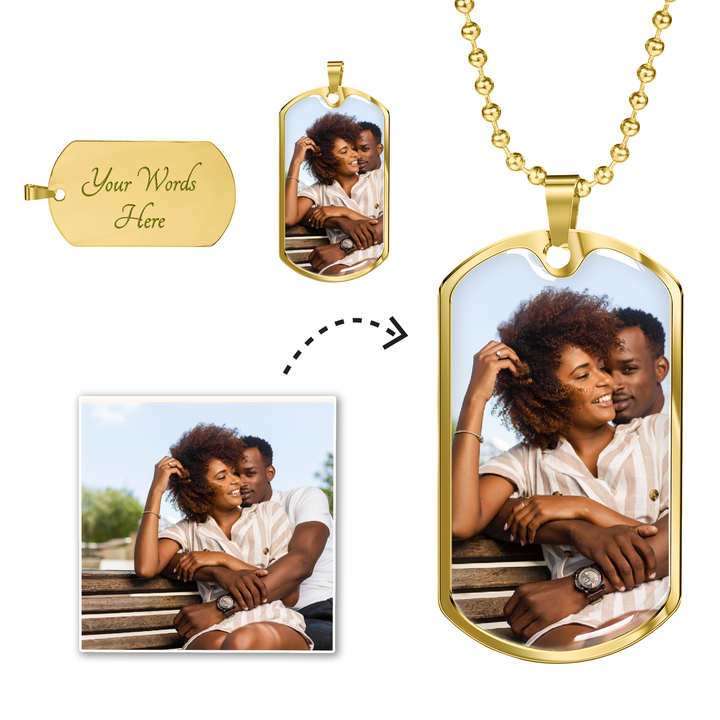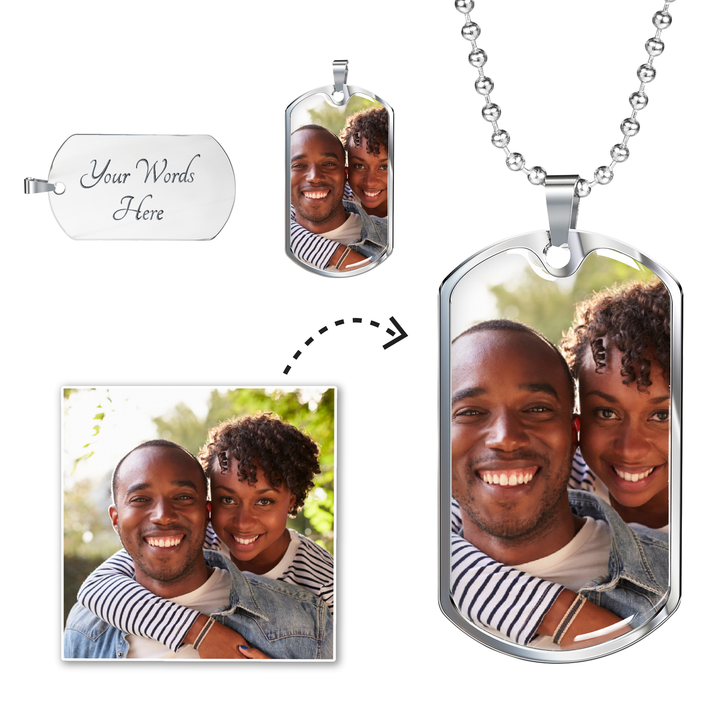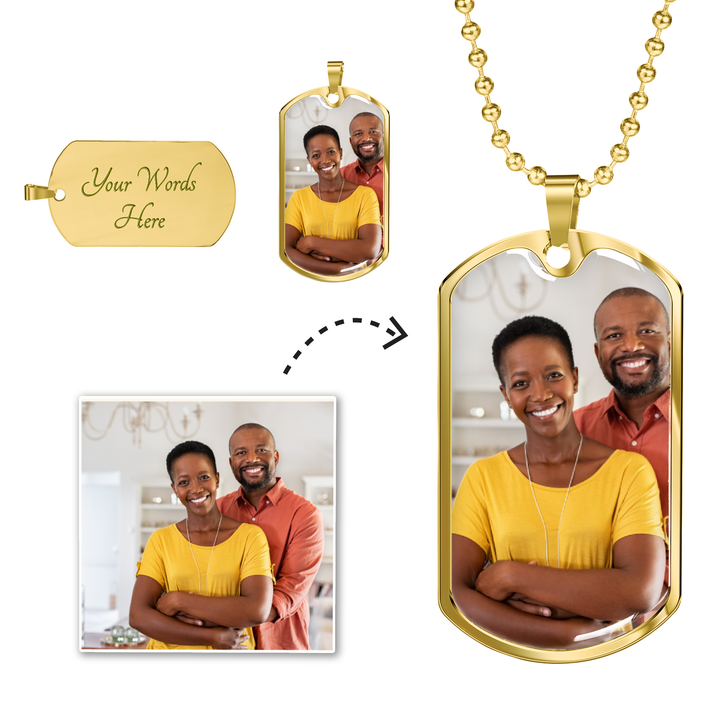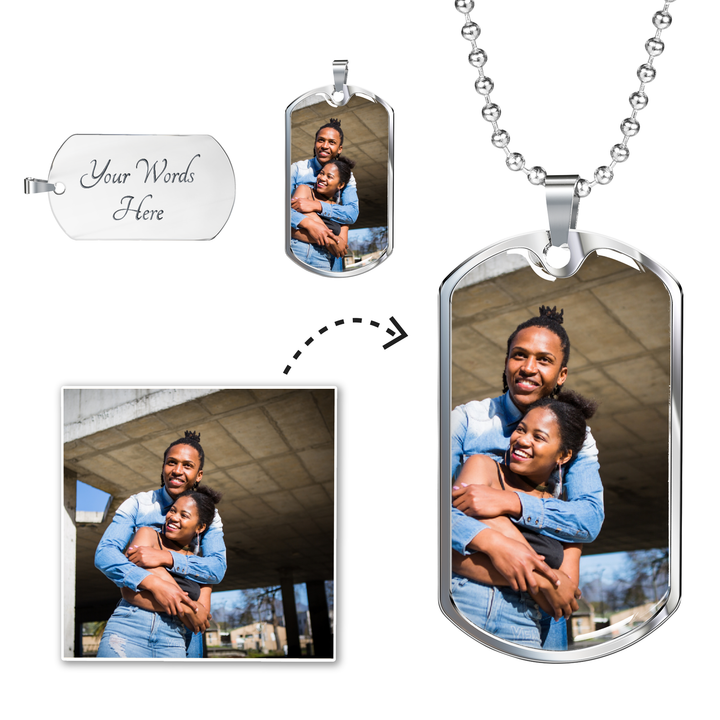 Looking for a great gift for your Kappa Man? You can add you own photo on the front and engraved words on the back. Gift includes chain, pendant and the memorable message card seen here. It ships in a beautiful gift box. 
This military style chain and pendant engraved with a touching message makes a great gift for Birthday, Father's Day, Christmas and any other special occasion. PLUS, you can add your own photo on the front and words on the back side!
Message Card Words: When I met you, I found my missing piece. Never forget that I love you deeply. Sometimes it's hard to find words to tell you how much you mean to me. I love you for all that you are, all that you have been, and all that you are yet to be. Wherever this journey takes us  I want us to go there hand in hand. I can't imagine my life without you in it.
(Visible once chain is removed): With all of my Love.
DETAILS
*** Available in polished stainless steel or 14K yellow gold over stainless steel, you can be sure this wonderfully weighted necklace will be a favorite piece they will wear day after day. 
*** Our products are assembled and fulfilled in the US, and this item comes packaged in our lighted mahogany style luxury gift box.
*** Our items are delivered without any receipts or prices.
➜ Add the perfect photo to create a truly unique piece of jewelry! (PHOTO TIP: If more than one person use a photo where people are close together. Portrait layout photos work best).
➜ Use the optional custom engraving option to engrave onto the back of the pendant your loved one's name, your wedding date, an anniversary, or anything else you want to remember and keep you close to her heart. Each personalized piece offers exceptional craftsmanship that is fit to be an instant classic for the recipient. (optional - 40 characters max. If you choose this option you will be asked to enter before check out)
DESIGN
Each design is created with love by the team at Gifts Family Love. Any added words are laser etched on the back by our skilled artisans to ensure that it will never fade away, keeping your important message close to your loved one forever. 
Product Details: (Pendant size is enlarged in images for representation purposes only. Actual size information below.) 
➜ Luxury Military Necklace: 24" (61cm) with upgraded clasp
➜ Dog Tag: 28.5mm x 51mm
Material: Polished Stainless Steel or 14 gold finished.
Your man will LOVE this keepsake keychain so get it before it is no longer available!.
Product Dimensions
➜ Luxury Military Necklace: 24" (45-56cm) with upgraded clasp
➜ Dog Tag: 28.5mm x 51mm
HOW TO SUBMIT PHOTO: After purchase, immeditately email photo to seller here on ETSY.
Unique, one-of-a-kind gift

NOT SOLD in stores

USA: 2-8 Business Days
Hurry! We Sell Out Frequently
Description
Surprise someone you love with this unique and elegant jewelry item 🎁.
We say "UNIQUE" because each piece is different when you provide your photo.
This hand-crafted piece will never fade and is built to last!
Specifics
Made in Florida and Amsterdam
316 Steel or 18k Gold Finish
Adjustable Necklace Chain Measures 18"-22"
Water-Resistant
Delivery
Each piece is 100% custom hand-made to order in only 3-5 business days!
Hurry! We Sell Out Frequently
Unique, one-of-a-kind gift

NOT SOLD in stores

USA: 2-8 Business Days
Each item is handcrafted and assembled with love just for you and your loved one. Due to this, please allow 2 - 5 business days for your order to ship.
Once shipped, you can expect delivery within:
USA: 2 - 5 Business Days w/ Standard (1 - 3 Business Days w/ Expedited)
Canada: 5 - 10 Business Days
UK & EU: 3 - 7 Business Days
Australia & New Zealand: 8 - 20 Business Days
Rest of the World: 5 - 10 Business Days
Looking for a great gift for your Kappa Man? You can add you own photo on the front and engraved words on the back. Gift includes chain, pendant and the memorable message card seen here. It ships in a beautiful gift box. 




This military style chain and pendant engraved with a touching message makes a great gift for Birthday, Father's Day, Christmas and any other special occasion. PLUS, you can add your own photo on the front and words on the back side!




Message Card Words: When I met you, I found my missing piece. Never forget that I love you deeply. Sometimes it's hard to find words to tell you how much you mean to me. I love you for all that you are, all that you have been, and all that you are yet to be. Wherever this journey takes us  I want us to go there hand in hand. I can't imagine my life without you in it.




(Visible once chain is removed): With all of my Love.




DETAILS




*** Available in polished stainless steel or 14K yellow gold over stainless steel, you can be sure this wonderfully weighted necklace will be a favorite piece they will wear day after day. 




*** Our products are assembled and fulfilled in the US, and this item comes packaged in our lighted mahogany style luxury gift box.




*** Our items are delivered without any receipts or prices.







➜ Add the perfect photo to create a truly unique piece of jewelry! (PHOTO TIP: If more than one person use a photo where people are close together. Portrait layout photos work best).




➜ Use the optional custom engraving option to engrave onto the back of the pendant your loved one's name, your wedding date, an anniversary, or anything else you want to remember and keep you close to her heart. Each personalized piece offers exceptional craftsmanship that is fit to be an instant classic for the recipient. (optional - 40 characters max. If you choose this option you will be asked to enter before check out)







DESIGN




Each design is created with love by the team at Gifts Family Love. Any added words are laser etched on the back by our skilled artisans to ensure that it will never fade away, keeping your important message close to your loved one forever. 




Product Details: (Pendant size is enlarged in images for representation purposes only. Actual size information below.) 




➜ Luxury Military Necklace: 24" (61cm) with upgraded clasp

➜ Dog Tag: 28.5mm x 51mm




Material: Polished Stainless Steel or 14 gold finished.




Your man will LOVE this keepsake keychain so get it before it is no longer available!.




Product Dimensions

➜ Luxury Military Necklace: 24" (45-56cm) with upgraded clasp

➜ Dog Tag: 28.5mm x 51mm




HOW TO SUBMIT PHOTO: After purchase, immeditately email photo to seller here on ETSY.

Each item is handcrafted and assembled with love just for you and your loved one. Due to this, please allow 2 - 5 business days for your order to ship.

Once shipped, you can expect delivery within:

USA: 2 - 5 Business Days w/ Standard (1 - 3 Business Days w/ Expedited)

Canada: 5 - 10 Business Days

UK & EU: 3 - 7 Business Days

Australia & New Zealand: 8 - 20 Business Days

Rest of the World: 5 - 10 Business Days
See what people are saying
about us